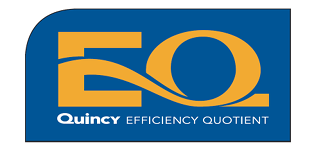 STEP 1 – DETERMINE YOUR EXISTING EQ RATING
To start your energy saving your Quincy representative will conduct a free walkthrough and complete the EQ Rating worksheet included in this brochure. This does more than just identify your existing EQ Rating, it estimates your current compressed air system operating costs and your cost reduction potential.
STEP 2 – CONDUCT QUINCY EQ ANALYSIS
• A trained Quincy representative will come on-site and connect the EQ Analyzer.
• The EQ Analyzer records the power and performance of the compressors and air pressure levels in your compressed air system during normal production.
• The recorded data combined with information gathered from plant personnel and observation will then be analyzed.
STEP 3 – DELIVER QUINCY EQ ANALYSIS REPORT AND ACTION PLAN
• Financial projections include a payback calculation on the recommended Action Plan and capital investment.
• System performance graphs and tables provide details on existing and proposed system performance.
• The Action Plan details the specific recommendations and estimated costs to raise your system's EQ.
A PERFORMANCE & FINANCIAL COMPRESSED AIR SYSTEM ANALYSIS
WHAT'S YOUR EQ?
EQ stands for Efficiency Quotient:
• Industry standard for evaluating the overall efficiency of your compressed air system
• Innovative, patented method
• Based on proven "Best Practice" solutions
WHAT'S THE BENEFIT OF A HIGH EQ RATING?
Optimizes your compressed air system:
• Reduces energy consumption
• Stabilizes system pressure
• Improves system performance
• Enhances product consistency
• Improves plant productivity
THE EQ ANALYSIS IS A 3-STEP PROCESS
• Determine Existing EQ Rating with a free plant walkthrough
• Conduct EQ Analysis to quantify cost-reduction opportunities
• Evaluate EQ Analysis report and Action Plan to reduce operating costs
Have MOre Questions About Energy Saving?